Close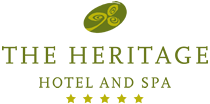 The Heritage Killenard
It's a pleasure to welcome you to The Heritage Killenard, Co. Laois. Our hotel combines elegant charm and hospitality with convenience at your fingertips. Exquisite details are throughout The Heritage Killenard, experience includes timeless art pieces collected from Irish and International art houses that adorn the walls, touches of marble, cherry wood and mahogany to compliment the classical furniture this is blended seamlessly with modern decorative elements.
On our website you will find extensive information on the hotel and all its offerings from our world class Spa, exquisite Ballroom for Weddings or Conference events, extensive selection of Luxury Accommodation and Dining. We welcome families and have a children's playground and fairy garden for kids to enjoy all year round.
We look forward to making your stay both comfortable and memorable by providing personalised service exceeding the quality of our facilities.
We look forward to having you as our guest!
Yours sincerely,
Andrew Phelan
General Manager
The Heritage Killenard